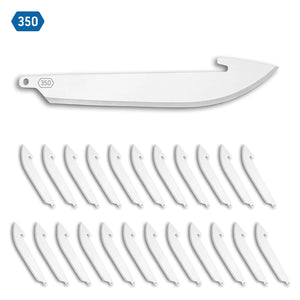 Outdoor Edge 350 (3.5") Replacement Blades - the ultimate solution for maintaining peak performance in your favorite hunting and outdoor knives. These razor-sharp blades are designed to deliver exceptional cutting power and precision, ensuring you never compromise on the quality of your cutting experience. Whether you're field dressing game, preparing campfire meals, or tackling any outdoor task, these replacement blades are a must-have for every outdoor enthusiast.
Key Features:
Superior Sharpness: Crafted from high-quality materials, the Outdoor Edge 350 Replacement Blades boast an impressive sharpness that effortlessly cuts through a variety of materials. Whether it's tough hide, fibrous vegetables, or dense rope, these blades will make quick work of any cutting task.
Durability: Built to withstand the rigors of the outdoors, these replacement blades are constructed to last. The strong and corrosion-resistant materials ensure long-lasting performance, making them a reliable companion for all your adventures.
Easy Installation: With a user-friendly design, swapping out blades is a breeze. The quick and simple installation process allows you to change blades in seconds, so you can spend less time tinkering and more time enjoying your outdoor activities.
Versatile Compatibility: The Outdoor Edge 350 Replacement Blades are designed to fit seamlessly into a wide range of Outdoor Edge knives. Whether you own a folding knife, fixed blade, or any other compatible model, these replacement blades will perfectly integrate with your existing setup.